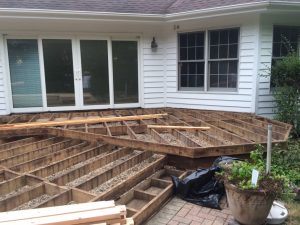 Is the deck in your backyard starting to fade or getting discolored? This is one of the most obvious signs that it needs to be restored. You and your family won't enjoy spending as much time on your deck as you usually do when it begins to look old. There are also other signs that your deck needs to be restored. Take a look at several of these signs below.
The boards that make up your deck are splitting or cracking.
When a deck has been in place for a decade or more, it's not uncommon for the wood from it to start to dry out. When this happens, the boards in the deck will often begin to split and crack. Splinters will also pop up all over the place. Outside of hurting the appearance of your deck, all of this can also put you in danger if you continue to use your deck as is. It'll need to be restored to stop it from falling apart.
There is mold and mildew growing all over your deck.
In addition to splitting and cracking, some decks will also begin to rot away over time. When they do, mold and mildew will usually grow on them and make the situation worse. They can capture moisture and expose your deck to it, which will lead to further rotting. Mold and mildew should be removed as quickly as possible to prevent them from completely taking over a deck.
Screws are starting to raise up and cause boards to come loose.
Your deck has dozens of screws in it holding it together. Those screws will stay put for years on end, but eventually, they'll start to raise up and allow some of your deck boards to come loose. The screws could cause injuries if you're not careful. The loose boards can also fall off and make it unsafe for you to use your deck anymore.
If your old deck has seen better days, you can replace it entirely if you want. Nevertheless, you can also do deck refacing that'll allow you to remove rotten wood and make your deck look like new again. During deck refacing, Brad F. Beller Construction will make sure your deck's substructure is in good shape before upgrading the visible portion of your deck with new materials that are near maintenance free! This will give your deck a new appearance without forcing you to do total deck replacement. Call us at 847-772-4455 today to hear more about this process.