Do you want to make one of the bathrooms in your home more functional for your family? Or do you want to update one of the bathrooms in your home so that it doesn't look like it's stuck in the 1980s anymore? You can do either of these things and, in many cases, even both of these things by doing a bathroom remodel. Here are a few things you should consider before you get started.
How much can you afford to spend on your bathroom remodeling job?
The first thing you should do before taking on a bathroom remodeling job is create a budget for yourself. By creating a budget, you'll prevent yourself from overspending on your new bathroom. You'll also make it a lot easier to pick out new fixtures, new flooring, and more when you know how much you can spend on everything.
What is the main goal of your bathroom remodel?
Make sure your bathroom remodel has a purpose. Some people remodel a bathroom to make it look more attractive, while others do it to increase the value of their home. Regardless of why you're remodeling your bathroom, it's a good idea to have an end goal in mind. This will guide your decision-making process and allow you to keep your eyes on the prize.
What features do you want to include in your new bathroom?
Prior to planning out your bathroom remodel, you should sit down and list some of the must-have features for your new bathroom. From a beautiful new bathtub to a new vanity to more storage space, write down everything you want to try to fit into your bathroom. This will help you get everything you want into it.
How will your bathroom remodel affect the rest of your home?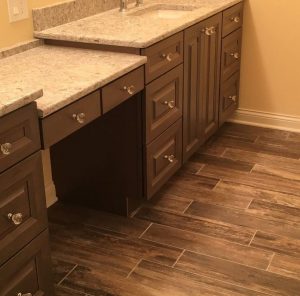 When your bathroom is being remodeled, you won't be able to use it for at least a couple weeks in most cases. Consider how this will affect the rest of your home and plan accordingly. You and your family may need to shift your morning schedule around when you're down a bathroom in your home.
If you've been thinking about doing a bathroom remodel, Brad F. Beller Construction can help you get it done. We can walk you through every step of your remodel and make sure you get the bathroom you've always dreamed about. Call us at 815-455-8051 today to get your remodeling project underway.